Zoover.nl6.8
Booking.com6.2
Expedia.nl6.4
TripAdvisor.nl5.0
Google6.6
Holidaycheck5.0
totalReviews2,738.0
Stay overnight in South Limburg
Welcome to Fletcher Hotel-Restaurant De Geulvallei. In the famous Geul valley, close to Valkenburg and the beautiful Ingendael nature reserve, lies Fletcher Hotel-Restaurant De Geulvallei. A 3-star hotel with a rich history, located in a historic building. The hotel is perfect for a weekend getaway.
Housed in a beautiful historic building
Hearty dinner at the restaurant
Situated in the famous Geul valley
Three multifunctional meeting rooms

Hotel with character and charm
Have yourself a carefree stay at Fletcher Hotel-Restaurant De Geulvallei. The hotel rooms, located in a historical accommodation, welcome you with their modern and comfortable ambience – a perfect mix. The characteristic interior and the luxurious hotel beds guarantee the perfect night of sleep.
Whenever you want to explore the surroundings of Houthem St. Gerlach you can make use of the e-bike rental service. After an active afternoon take a seat in our restaurant and enjoy a culinary dinner. If the weather is nice, you are welcome to completely relax on our scenic terrace.
The hills of Limburg
Nature lovers will feel at ease when they are cycling or walking through the glorious hills of Limburg. The surroundings of Fletcher Hotel-Restaurant De Geulvallei exists of beautiful hills and valleys. The peace and quiet and the wonderful nature are the perfect ingredients for a carefree weekend or midweek getaway.
Our team warmly welcomes you!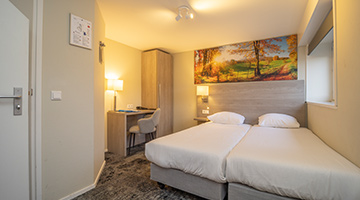 Photos and videos 
Do you already want to get in the mood before you arrive at our hotel? Check out the photos and videos of our hotel here.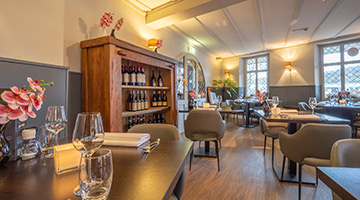 A pleasant stay 
Hotel-Restaurant De Geulvallei has many facilities which guests can use. For example, the hotel has a restaurant, bar, terrace and lounge. You can also contact the hotel for hiring e-bikes.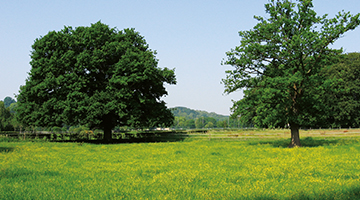 Gorgeous Limburg
Houthem Street Gerlach is one of the oldest tourist sites in the Netherlands. It is a charming town from which you can enjoy the Limburg countryside. Charming cities such as Maastricht, Liège and Aachen are also nearby.